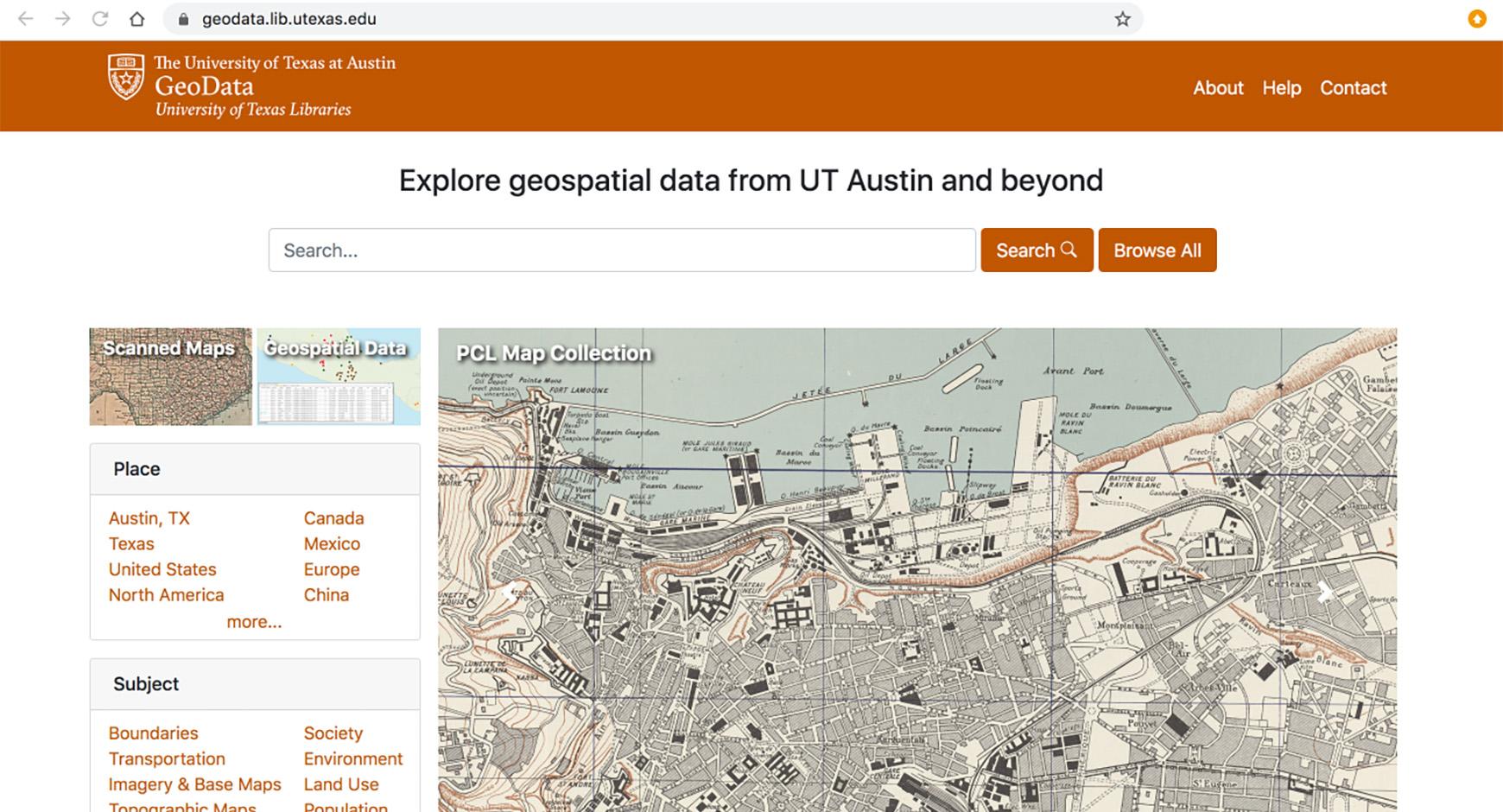 The University of Texas Libraries are leveraging technological advances in geographic information systems (GIS) to enhance the value of map collections at The University of Texas at Austin with the recent launch of a new portal designed to facilitate discovery of geospatial datasets that are ready to use in GIS software for mapmaking and analysis.
The Texas GeoData Portal uses an open source geospatial discovery application – GeoBlacklight – to power a web portal that gives users the ability to search, browse, preview and download geospatial datasets. Users can search through over 30,000 publically available geospatial datasets, including georeferenced scanned map images from the PCL Maps Collection and unique vector datasets developed from items in other special collections like the Benson Latin American Collection and Alexander Architectural Archives.
Geospatial datasets are comprised of descriptive information that has a geographic component such as a set of coordinates (latitude and longitude), an address, a zip code or similar information tying it to a specific location on Earth. With access to relevant geospatial data and GIS software, it is possible to carry out valuable research like assessing changes in climate over time, exploring the spatial connections between historical events, developing predictive species distributions models, studying the effects of urban development, and more. The portal will allow users to download data in several different standard geospatial formats so that datasets can easily be loaded into GIS software for carrying out these types of research.
Coordinated use of GeoBlacklight software and collaboration through the OpenGeoMetadata project has created a community among partner institutions for the sharing and standardization of data and metadata, expanding the opportunities for discovery and creating a robust search functionality among a large corpus of resources. Users can filter search results based on various dataset characteristics including geographic extent, subject matter, institution, data type and format.
Geospatial Data Coordinator Michael Shensky has overseen the development of the Texas GeoData Portal, and is pleased about the tool's launch and the prospects for future expansion.
"I'm really excited to be a part of this project because I know this portal has the potential to benefit everyone in the campus community regardless of their role and area of specialization," says Shensky. "Faculty can use the portal to find data for developing instructional materials, students can find data to use in research projects, and visitors will have access to a variety of unique maps and datasets that they can explore."
The official launch of the Texas GeoData Portal took place on UT GIS Dayas part of a series of events across campus on November 13.  The portal was the focus of one of these events, a special GIS workshop held at the Perry Castañeda Library that gave attendees a peak into how to use GIS software and datasets downloaded from the Texas GeoData portal to carry out research.
The intial release of the portal provides valuable new tool for members of the campus community looking for geospatial data to fuel their research, and it will only become more useful over time as new datasets continue to be added. With an estimated 70,000 additional maps from the PCL Map Collection alone also eligible for eventual inclusion in the portal, there is great potential for expanding the portal's content and there should always be something new for visitors to discover.