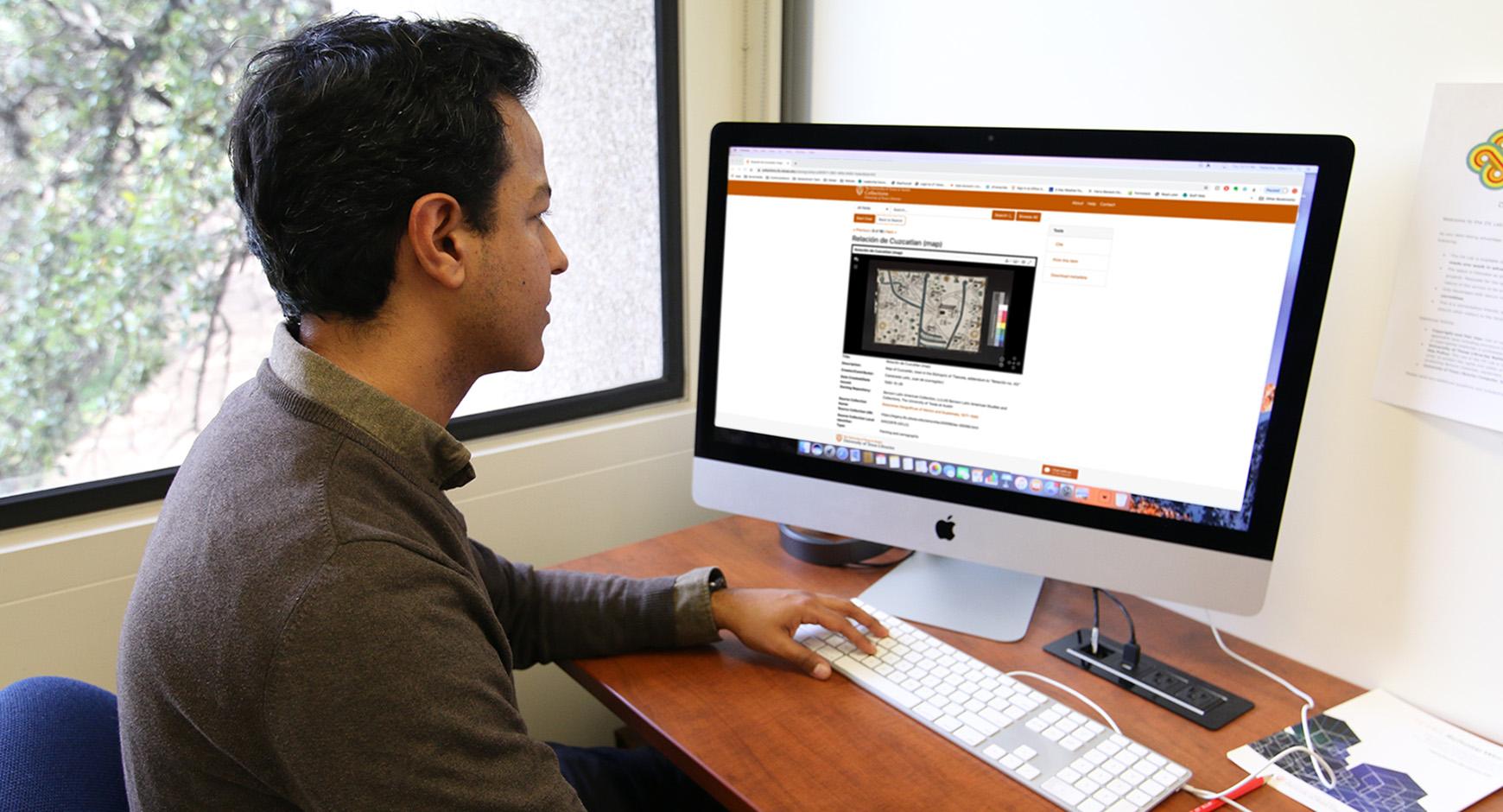 The vast digitized collections of the University of Texas Libraries are becoming increasingly available through a new web portal.
A new access point on the Libraries' website – the Collections portal – allows users to undertake remote research and study utilizing rich resources that have previously only been available in person or through more time-intensive digitization on demand processes.
Students, faculty, researchers and the broader public now have access to collections that have not been directly available in the past, and the project's infrastructure work creates a framework for a more consistent stream of new digital content in the future. Each item in the portal also contains contextual data in order that users may learn underlying information about the material, locate physical counterparts and determine reuse rights for digital files.
The portal in its initial release highlights two of the Libraries' most notable collections: the Nettie Lee Benson Latin American Collection and the Alexander Architectural Archives, containing various materials like scanned photographs, manuscripts, books, broadsides, architectural drawings and maps. Further content is constantly being added, including digitized maps from the Perry-Castañeda Library Map Collection and material for scholarly research from the Libraries' Global Studies department. All content in the portal is being indexed by search engines, significantly improving searchability and discoverability.
This first iteration of the Collections portal is the result of recent technological innovations employed by the Libraries to disseminate digital content to the campus community and beyond. The portal serves as a public-facing gateway to resources in the new digital asset management infrastructure launched recently by the Libraries. This infrastructure provides staff who create and manage digital resources at the University of Texas Libraries the ability to sustainably store and disseminate digitized collections.
"We are planning further development phases in the near future, in which we aim to prioritize upgrades to the system software, expanded functionality to support sharing of audiovisual content, and mapping of data structures to linked data standards," says Melanie Cofield, Head of Access Systems. "I am delighted we have reached the milestone of launching this first version of the Collections portal as it provides lessons learned and momentum for our staff to build out increasingly robust iterations with more content and functionality for users to enjoy."
A team of librarians, archivists and Libraries IT staff developed the Collections portal throughout 2019. It is built with open source technologies including Blacklight, Solr and the International Image Interoperability Framework (IIIF). Robust image viewing, transformation and portability features enabled by IIIF position the portal as an important research tool with wide applicability for The University of Texas at Austin and the broader community.